Blu Berry Frozen Yogurt and Topping Bar is a healthy alternative to high sugar, high fat, and high calorie ice cream desserts. Create your frozen yogurt treat just the way you want it. You decide how much you would like to eat and how much you would like to spend. Our self-serve process is easy, fun, and deliciously healthy!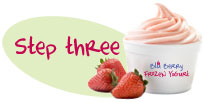 Meander over to the LARGEST TOPPING BAR IN SPOKANE where you have over 50 different toppings to choose from. We have seasonal fresh fruits, dry toppings, chocolate delights, and warm sauces.
The Experience:
We believe coming to Blu Berry is all about the experience. We have ample comfortable seating, easy parking, great music, as well as a gas fireplace to enjoy during the winter season. Have fun sharing your experience for all our customers to see on our big screen TVs. Whether it's your first date, a team victory party, or a group of friends just hanging out, we love for you to use our camera and take some fun pictures of your time at Blu Berry. We will upload your pictures on our big screens for you and your friends to enjoy. Be fun, be creative, but keep it family friendly!
Loyalty Program:
We love our loyal customers! Be sure and get your customer loyalty punch card. Buy 14 froyos and get a 10 oz cup FREE!